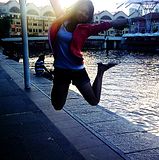 As my url suggests, my name is
♥PEARL
. I used to be part of Nan Chiau High School's
4Electrizzare
and yes, I ♥ that class. Being nuts, I'm also a proud member of the Nut Family which is filled with many awesome members who never fail to make me smile.
Dance
is my passion, especially Chinese Dance at NAFA's Junior Dance. Thus, I joined International Dance in NCHS. There, I met a group of people, the Yues, who left me with wonderful memories throughout the four years.
Fastforward to the present. I'm currently studying in
Anderson Junior College
and hope to leave the school by the end of next year so that I don't have to worry about the school collapsing down anymore. The super
xiasuay
22/09
is where I'm in and it's filled with many
xiasuay
people. LOL. Oh yes, I'm in
AJ Enterprise
too.
I realised that this portion about myself is getting long but
I don't care
cause this is MY BLOG. HAHA. Okay, continuing, I am simply in ♥ with Japanese Dramas. I watch them everyday. Yes,
everyday
. Through these dramas, I came to know my current obesession, JPop groups,
NEWS
and
Arashi
. I'm so in ♥ with them so don't you dare flame them in any way.
Point to note, this is my blog. Thus, it revolves around me. I don't care if no one else reads it but keep what you dislike about me to yourself.
Alrights, HAPPY READING! (:
strike out.
AWESOME RESULTS
HAVE NO WORRIES
MORE JE STUFF
MORE JDRAMAS
MORE INTELLIGENCE
YAMAPI<3

buy NEWS 'COLOUR' album
get NEWS WINTER PARTY DIAMOND HANDPHONE STRAP!
get NEWS WINTER PARTY DIAMOND CONCERT DVD!
wallet from 77th street
that red/black patent tote bag
FEAST!
learn hip hop

watch Buzzer Beat
watch 1 litre of tears
watch My Girl
watch Yattaman

hearts talking.
alternative exits.
my days, not yours.
thank you.